Going to visit an oncology doctor isn't one of most people's favorite things to do on a Friday afternoon. When Kristen Fersovitch was dropped off early for her oncology  appointment she needed something to do to pass the time.
She happened into a nearby drugstore store while she waited.
She happened to see a kiosk with books.
A book on the lowest rack happened to catch her attention.
It was a single copy of the book, "Divine Alignment."
"What a coincidence," she thought. "My friend just told me about that book!"
A coincidence led her to a book about coincidences.
"What Are The Odds Of That!"



Kristen called me to tell what had happened and suggested that I would be interested in reading the book.
I owe her.
As a result of reading "Divine Alignment" I've added "GodWink" into my worldview.
GodWinks are what people would call a coincidence, an answered prayer, or simply an experience where you'd say, "What are the odds of that!"
4 Things I Learned About GodWinks and Life
1. A "GodWink" is a message of reassurance from God directly to you. Kristen was diagnosed with inoperable cancer. She believed God could heal her. People believed, prayed and fasted for her healing.
Through all of her pain, setbacks, and disappointments, she was not perplexed.
She had multiple reassurances of God's faithfulness through "GodWinks."
In June 2013 she texted me about one of those GodWinks. She was being transported by an ambulance attendant to the Cross Cancer Hospital for her chemo treatment. His name was Ken and he had a story to tell.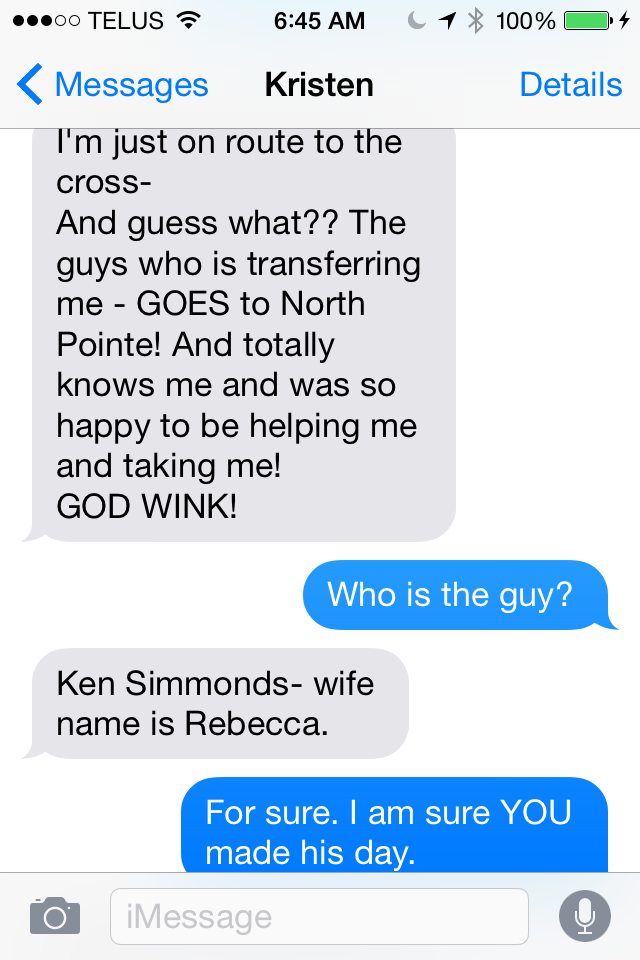 Ken, the EMS worker, happened to attend North Pointe, Kristen's church,
Ken and Rebecca actually chose North Pointe as their church because of Kristen. On their first visit they happened to hear Kristen share her story of faith. They were impressed.  They wanted to be a part of a church that was attended by people like Kristen.
Ken's story inspired Kristen deeply that day.
2. GodWinks are not cheap replacements for miracles.
People in crisis want a miracle not a wink. Kristen wanted a miracle.
She wanted to be healed so she would live and God would be glorified.
She also wanted others to know that if things did not work out for her as she hoped, she would trust God until the end – because the end would be her new eternal beginning.
That was the greatest miracle in her estimation.
3. In times of UNCERTAINTY what we need more than anything else is CERTAINTY.
We crave certainty when we get a dire medical report. We long for certainty in our relationships. We crave the certainty that we'll have enough in the checking account to make it through the month.
GodWinks shore up certainty.
GodWinks are intentional reminders that God cares; that He is at work, daily directing and providing for your life.
My favorite chapter in "Ornament" – Kristen's story – is the one about GodWinks. (Purchase the book here)

4. GodWinks are the fingerprints of God on the circumstances of your life.
Look back on your life. You will find God's fingerprints on the details – dates, numbers, timing, names, places, words.
God's fingerprints are assurances that He is in control in a seemingly out-of-control world.
Watch and listen for your GodWink today.
God's got His eye on you.
APPLICATION: Where do you see the fingerprints of God on the circumstances of your life? Please leave a comment below.
---
I wri