Depression is personal to me. My cousin died by suicide. She was depressed following her divorce. She never recovered from the rejection and grief. As a pastor I've grieved with too many families whose loved one ended their life because they could find no other way to stop their internal pain.
Those who suffer from clinical depression may feel like the least understood people on the planet.
Too often there is a stigma associated with mental health issues in the Church.
I'm taking responsibility to end that stigma by sharing, with permission, life stories of people I know..
Brock's Story
In November of 2013, I was going about my life as a new dad and speechwriter for the leader of a political party when it hit me.
It presented innocuously enough as panic attacks. Sitting down at my computer brought sudden and paralyzing physiological discomfort. I had experienced the odd panic attack in the past, but they were periodic and easy to shake off.
These were different.
I physically couldn't work.
Brenda's Story
My friend, Brenda, gave me permission to share her story:
"As a nurse, I knew what was happening to me, but I thoroughly rejected it. I was about 25 years old and a Christian. Depression did not happen to Christians. I felt that if I trusted God and prayed, I should be better. Well, I wasn't. I could not allow myself to believe that it was a chemical imbalance within my body that was causing these symptoms.
I sang in the choir and went to Bible study, but I never felt I could share with anyone. Depression is like leprosy. No one talks about it. It is ignored—especially in the church circles—and the people who are in depression feel even more isolated. Often I would try to make comments about people with depression in order to sound out some of our friends, but the remarks I received in return were about people who 'couldn't cope, or should pray more,' so it underscored my feeling that I was inadequate. I felt more alone and lost.
The only person I felt I could talk to was a lady who had also experienced severe depression after the death of her brother. She was quite open about it and made me feel acceptable. Finally I went to a doctor.
That is one of the reasons I am telling you this today. People who experience depression do not need to hide.
They do not need to feel unloved or unchristian. God loves you. We need to remember that we are not here on earth to see through one another, but to see one another through—through all of the things that happen in life."
The Bible Never Shies Away From Reality
Job, Elijah, Jeremiah and David are four well-known Bible characters who described their lives using terms associated with depression.
Job, the oldest book in the Bible, chronicles the mental anguish of a man who lost everything and fell into despair. "I have no peace, no quietness; no rest. I hate my life." (Job 3:23-26, 7:11, 15-16, NLT)
Elijah the prophet was in such despair he asks God to kill him. (1 Kings 19:4)
Jeremiah, a prophet, wishes he had never been born. (Jeremiah 15:10)
David the psalmist writes about his tears "being his food day and night" in Psalm 42 and 43.
These are not "poetic" descriptions of a spiritual condition. These are the desperate declarations of people at the end of their rope. Instead of a one-and-done antidote, the Bible starkly shows the dread that accompanies the ill.
Christians can have the greatest challenge dealing with mental illness because we believe people of faith can do anything with God's help.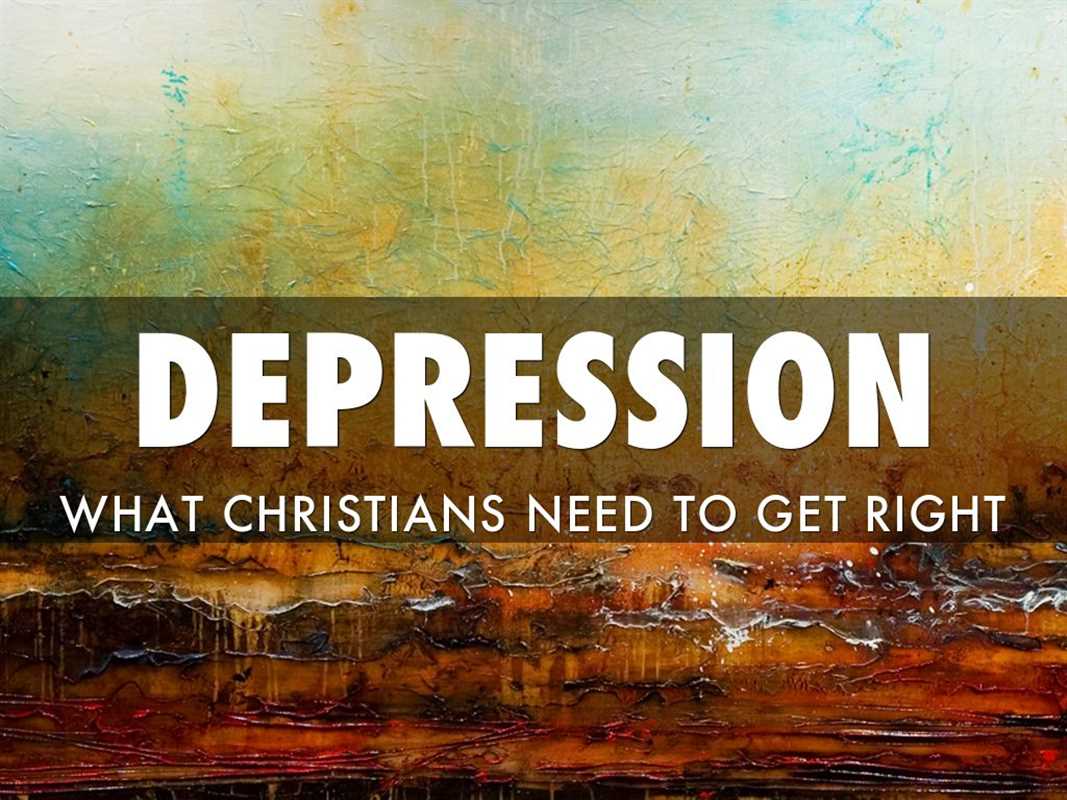 What Christians need to know about clinical depression:
1. People facing clinical depression can be sad, but clinical depression is not sadness.
2. Depression is not something you can will yourself or talk yourself out of.
3. Depression is not a choice.
4. Depression is not a character defect.
5. Depression is not a spiritual disorder.
6. Depression is not an emotional dysfunction.
7. Depression is not demonic.
Can a Christian be oppressed by depressive thoughts? Yes.
Can a Christian be possessed by some demon that stimulates depression? No.
Clinical depression, postpartum depression, post traumatic stress disorder (PTSD), mood disorders, chronic anxiety, are illnesses.
The greatest success in addressing clinical depression is with a holistic approach – mind, body and spirit.
Clinical depression is the only physical illness with spiritual symptoms.
History records strong Christians who experienced depression:
Martin Luther
Charles Spurgeon
John Bunyan
Abraham Lincoln
C.S. Lewis
Buzz Aldrin
Rick Warren
Mother Teresa
Mental illness does not make you weak, cowardly, faithless, hopeless, joyless.
Mental illness means you're experiencing sickness and in need of healing. Sick people use medicine, therapy, support, and faith to eventually become well again.
Mental illness can fill your life with pain.
There is healing.
There is hope.
Each of the Bible characters and people from history mentioned above, reached out to God to find their hope and help.
If you or a loved one suffers from depression, anxiety, bipolar disorder, or any other mental illness, it's NOT your fault. You need help – and asking for it is a sign of strength.
Tomorrow can be better.
Joanne Goodwin's journey from despair to victory is authentic. She tells it like it is…and does it with humor.
Related Posts
Sisterhood of the Semi-Colon
Please leave a comment below. Thank you.
Hope grows here.  Stories that inspire people, build faith, and offer lasting purpose.
We'd love to have you Subscribe to REVwords. We'll put helpful content into your inbox early Mondays to get your week off to a good start.