The next time you're feeling sad and depressed, pay close attention to your posture. You'll likely be slumped over with your neck and shoulders curved forward and head looking down.
The Low Down on Looking Down
Have you ever thought about how posture affects your life? I'm not talking about just "sitting up straight" or "get your elbows off the table."
The prescribed path for my convalescence following retinal surgery is to lie prone. My waking hours are spent either laying on the floor or on a massage table or leaning over a chair with my head down. I've been doing this now for over a week. As a result there is strain on my neck and lower back and a greater strain on my emotions.
There is something about the inability to look up that makes me feel down.
Posture and Mood
Over the last ten days I felt increasingly moody. And not a good mood. Anger. Sadness. The leading edges of despair. It's difficult to articulate – not only because it's hard to describe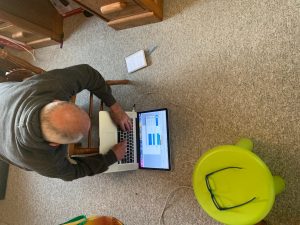 but the effort to describe it leaves me feeling vulnerable, exposed, and weak.
Logic tells me that my experience is not unique and perhaps sharing may be of some solace to others.
Languishing and Flourishing
On a mental health continuum between flourishing and languishing I'd have to say I am descending deeper on the languishing side.
I feel an irrational anxiety about Jocelyn leaving the house or the rest of our extended family going about their daily business and being at threat of harm. Anxiety is a helpful trigger for me to turn to prayer. I've been doing a lot of praying.
Long before my surgery I committed to facilitating an online mental health course called Sanctuary. The timing of the course is providential. A portion of Session Two is about the theological perspective on mental health.
Four Perspectives on Suffering
An underlying course principle is that God is present and at work during the most challenging times.  The course identifies four theological perspectives on suffering.
Number One: Suffering is a tool of transformation. 1 Peter 1:6,7 God sometimes allows challenges and painful circumstances into our lives so that we can discover the places where we need to be transformed and turn to God for help.
Number Two:  Suffering is an opportunity for divine redemption. When suffering enters our lives can remind us of our weakness in our ultimate need for God. John 9:1-11
Number Three: Suffering is an opportunity for communion with God. Psalm 34:18 – " The Lord is near to the brokenhearted and saves the crushed in spirit." pain can make us feel isolated but the truth is that God is with us in our darkest moments.
Number Four:  Suffering is a temporary condition. Revelation 21:3,4  That's good news.
Look Up
With so much research showing posture affecting mood, is it any wonder why Jesus encourages us to  look up. Even when your outlook doesn't look good, looking up – spiritually and physically – can help.
I may be constrained to look down but I can change my awareness and attitude. So can you.
Who knows, you may just find looking up lifts you up.
APPLICATION: Have you found that posture affects your mood? Join the conversation below.
---
Hope grows here.  We share stories that inspire people, build faith, and offer lasting purpose.
We'd love to have you Subscribe to REVwords. We'll put helpful content into your inbox early Mondays to get your week off to a good start.