Think about how we respond to mental illness in the church. A woman diagnosed with cancer experiences sympathy, hugs, prayers and casseroles. A woman diagnosed with a mental illness experiences silence, suspicion, blame, and far too often, shame. That's called "stigma." There is no stigma with cancer, heart disease or diabetes. How did we get to the place where those who are struggling with their mental health feel like they must hide in shame?
---
My writing on Mental Health and the Church was published in the Spring issue of the Pentecostal Testimony magazine.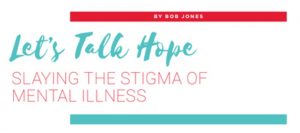 ---
National Hope Talks
Connie Jakab, founder of National Hope Talks, is the heart behind the Let's Talk Hope gatherings in BC and Alberta. Connie believes when people come together in the name of community and connection, things happen. Change becomes possible. Community heals mental illness. We need to bring the hurting closer.
"My work is driven by interpersonal neurobiology – the idea that our brains are rewired through connection. If we want to see our crisis with anxiety end, we need to get underneath what's causing it and fix THAT. It's time to stop talking bandaids and make the brave changes needed for anxiety to lose its power. We can do that through loving connection and empathy."
Well Intentioned Needs To Become Well Informed
And what better community for loving connection than a Spirit-filled congregation? And yet all too often, the most threatening environment for the mentally ill is Sunday morning church. Faith communities – and PAOC churches are no exception – can be unsafe places for women and men suffering with mental illness. Why? Most people of faith are well intentioned, but not well informed.
Read the full article in the Testimony here.
APPLICATION: What is your experience like with the church and mental health? Are you involved in offering support? Plase leave a comment below. Thank you.
---
Hope grows here.  We share stories that inspire people, build faith, and offer lasting purpose.
We'd love to have you Subscribe to REVwords. We'll put helpful content into your inbox early Mondays to get your week off to a good start.