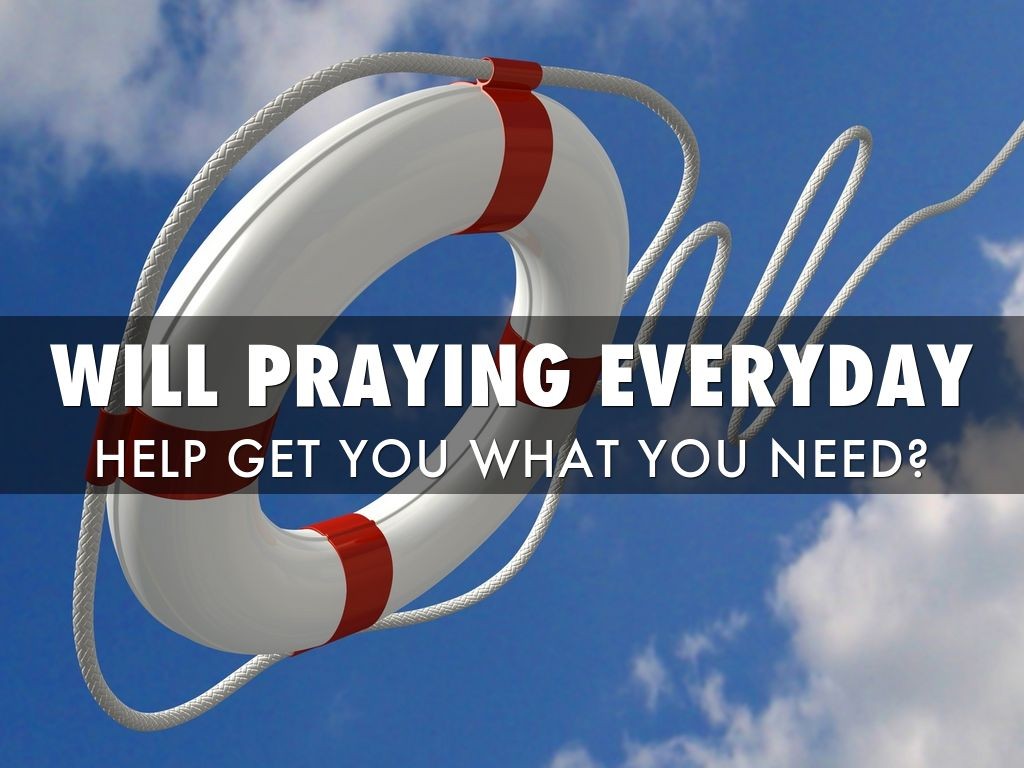 "We knew we'd be OK because you were praying."
These were the words that greeted my wife, Jocelyn, after she was held up at gunpoint in the bank where she worked.
When the bad guy came in to the tellers area he picked Jocelyn's wicket for the stick-up.
He was wearing a balaclava and shouted, "Give me all the money!"
He sighted a rifle in her face. People started crying.
With most everyone else down on the floor she coolly bagged the money.
He made his getaway and her co-workers came to her side. One of them told her, "We knew you'd be praying so we felt safe." Jocelyn told them, "Praying? I had no time for praying. I had already done that earlier. I was just thinking, 'You'd better not shoot me and get blood on my new dress.'
By God's grace no one was hurt that day.
Will praying everyday help get you what you need?
1. Praying everyday will get you what you don't even know you need. Did Jocelyn know when she got up that day that she would be held up at gunpoint? Broken fingernails, unhappy clients, tired feet maybe but never robbery.
Did she know that she would suddenly be thrust into the centre of attention of her entire bank branch? Not at all.
Did she think she would experience the most dangerous moment of her life that day? Not for one second.
Jocelyn just did what she does most days – pray before entering her day.
2. Praying everyday will sustain you in the unexpected moments when you can't even pray. The ironic part of that day was Jocelyn was supposed to be leaving work to attend a funeral.
A co-worker's grandmother had passed away. I was officiating the funeral.
Moments before the funeral started, Jocelyn called to ask me to tell the family she would not be able to attend. The bank had been robbed and she was with the police.
The phone conversation was rather matter of fact.
"Are you OK?"
"Yes."
"Did he have a gun?"
"Yes."
"Did anyone get hurt?"
"No."
"Are you OK?"
"I think so."
From there she was off to meet with the crisis team.
Jocelyn's habit of praying prepared her for a moment when she couldn't pray. God gave her what she needed before she knew she needed it.
3. Praying everyday will get you "in the way of God." Praying does not get God's attention. God is already attentive to your life (this is a whole other story, but a vitally important one).
Praying will get your attention.
Sometimes when you pray, you feel something. Sometimes you don't. That's OK. Sometimes prayer is simply from habit. That's good. Prayer gets you in the way of God and its there you will get what you need.
So what if I didn't pray? Wouldn't I have the same experiences in life? Well, you might have the same experiences but not necessarily the same outcomes.
Praying will give you what you need to be able to receive both good and bad experiences. In answer to prayer, God sometimes calms the storms for sailors and sometimes God calms the sailors (or bank tellers) in the storm.
"I know the plans I have for you," declares the Lord, "plans to prosper you and not to harm you, plans to give you hope and a future." (Jeremiah 29:11) Even if harm comes your way, God's way is to prosper you, provide for you and protect you. Believe that.
"For my thoughts are not your thoughts,neither are your ways my ways," declares the Lord."As the heavens are higher than the earth,so are my ways higher than your ways and my thoughts than your thoughts." (Isaiah 55:8,9) God understands our needs and our prayers even when we don't have the words to express them.
"In all your ways acknowledge Him and He will direct your paths." (Proverbs 3:6) What better way to acknowledge God than by praying everyday. Then be confident He is directing your path.
APPLICATION: Please leave a comment below.
---
Pointes of View exists in order to help people grow their faith in Jesus, build healthy relationships and effectively live out their purpose.