At the halfway marker of a 10km fundraiser, a volunteer observed the pair of running shoes hanging around my neck and made an astute guess.
"You must be running for someone today."
Kristen Fersovitch had been battling cancer for over 15 months when we had a conversation in her home.
"When you're stronger we'll run together. I'll try to keep up with you. Promise."
Kristen laughed.
Cancer had drained Kristen of the energy to run but not her faith to believe for better days. She was as ferocious in her determination to get healthy as she was in her approach to everything else in life. She put her running shoes on her bedroom nightstand, right beside her Bible – they were her declaration of hope.
A PROMISE KEPT
The shoes remained undisturbed for a year after her passing on October 4, 2013.
On October 4, 2014, Kristen's running shoes went back into use.
Jocelyn and I entered "Run Burundi" in Kristen's memory.
It seemed like a good way to keep my promise to "run with her" and it was a great cause – raising money to feed children in one of the most impoverished nations in the world. Kristen would have liked that.
WHITE SAUCONYS
Her husband Mike brought me her runners for the race. They're white Sauconys, with silver trim and robin's egg blue hi-lites. The laces were just as she left them, double knotted – like every good runner knows to do.
Her shoes felt light, like butterfly wings.
I imagined Kristen running with us. "Come on, Pastor Bob. Let's give'er!  You're only 60. Keep the pace up!"
She would have been happy to know Jocelyn and I ran our fastest 10km…ever.
Ten kilometers is not a long distance but long enough to mull some things over.
1. There is no ache like living with loss…but you'll come through.
As I ran, author Anne Lamott's words came to mind: "If you haven't already, you will lose someone you can't live without…and your heart will be badly broken, and the bad news is that you will never completely get over the loss of a beloved person.  But this is also the good news.  They will live forever, in your broken heart that doesn't seal back up.  And you come through.
Its like having a broken leg that never heals perfectly – that still hurts when the weather is cold."
2. Comfort is embracing the ache of the loss and refusing to give up trying.
For the first time in my life, I ran with a brace on my knee. An injury hadn't healed in time for the Burundi race.
I refused to be sidelined, so we braced the knee.
After the race, the knee felt bad, but I felt good.
Mary Ann Radmacher said, "Courage is the little voice at the end of the day that says I'll try again tomorrow."
3. Watch for God's fingerprints on your circumstances.
Even though we ran our fastest race ever, it was the timing of the race that mattered more.
The 2014 Run Burundi "happened" to land on October 4th – exactly 365 days after Kristen's passing.  It was the perfectly timed race to enter.
Kristen introduced me to the term "Godwink." A "Godwink" is what some people would call a coincidence, an answered prayer, or simply an experience where you'd say, "What are the odds of that?"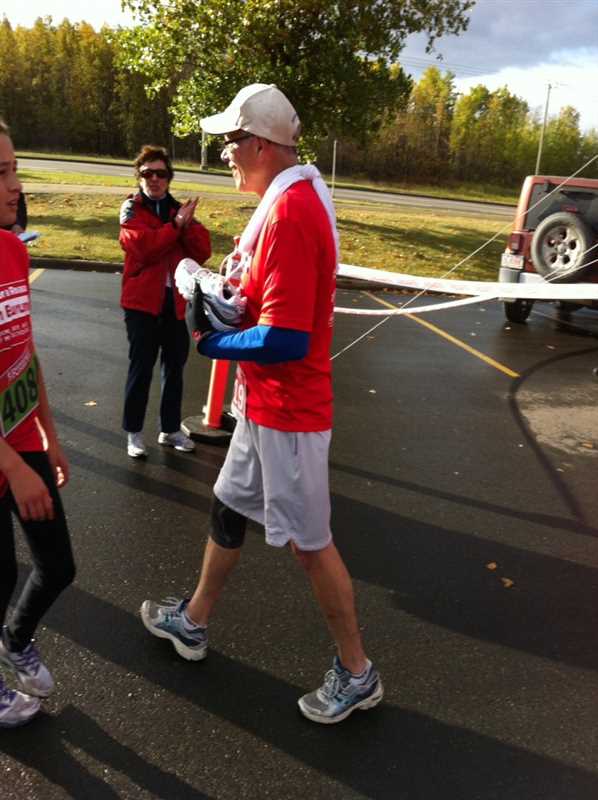 Godwinks are God's fingerprints or messages of reassurance, directly to you saying "Hey…I've got my eye on you! Keep the faith! You're never alone."
"Run Burundi" was my Godwink.
 4. Promise yourself you'll look beyond the pain to the finish.
Kristen's shoes were light but I wasn't used to carrying them while running. After a while I developed a pain in my neck.
The discomfort made me think of Kristen's dad, Dave, who often felt the painful brunt of Kristen's fiery stu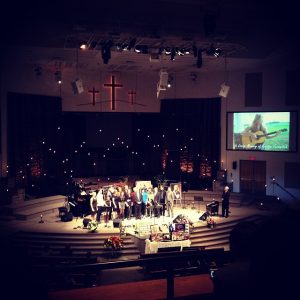 bbornness when she was a teen.
Pain never lasts – love does.
When you can look beyond the pain of loss, you can finish…well.
One promise…two shoes…ten kilometers and lessons for a lifetime.
Thanks, Kristen.
You can purchase a copy of "ORNAMENT: The Faith, Joy and Hope of Kristen" here.
APPLICATION: Are you facing a loss? How can I pray for you? Please leave a comment below.
---
Hope grows here.  We share stories that inspire people, build faith, and offer lasting purpose.
We'd love to have you Subscribe to REVwords. We'll put helpful content into your inbox early Mondays to get your week off to a good start.