Why would anyone want to jump out of a perfectly good airplane?
Twenty-two years ago I answered that question – "to face my fear." After safely landing a solo jump I heard myself say, "Never again." Duh! You would think that someone as old as me would know better than to say "never."
"Never" doesn't stand a chance against Lori Patrick, especially in her role as the Executive Director for Adeara. I was there in 1998 when Adeara (the Edmonton Dream Centre) began fearlessly transforming the lives of women struggling with addiction, poverty, trauma, and abuse. I've spent time in jail for the cause (long story).
Jumping, strapped to a stranger, out of a perfectly good airplane at 14,000 feet, makes sense only to help the cause.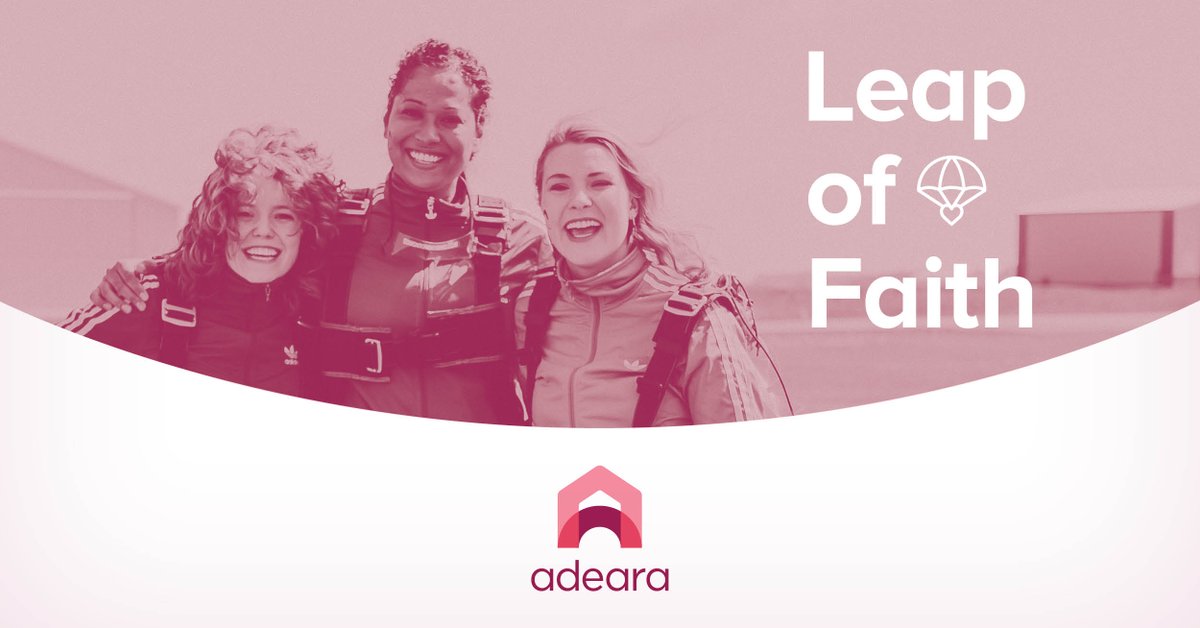 The Cause
In 1998 the Edmonton Women's Dream Centre offered hope from a tiny pink house on 97th Street.  Since then Adeara has worked fearlessly to transform the lives of women who have been struggling with addiction, poverty, trauma, and abuse.
During the last two decades they helped more than 600 women and their families rebuild their lives. The need for addiction recovery services in Edmonton continues to grow. Lori and her team set some daring goals to build for the future. They want to reach more women and children in crisis, expand services, and collaborate with community partners on the creation of a new, larger facility.
The women at the Adeara Recovery Centre take a leap of faith everyday – choosing hope over uncertainty, faith over fear, and taking a chance on themselves and others.
These women are facing their fears, I can face mine and take a leap at 14,000 feet.
---
"Four years ago my life was in chaos; I was held captive to addiction and in an abusive relationship… After spending one and a half years at Adeara, the knowledge I left with has helped make me who I am today." Heather
---
I'll be 66 years old when I take the leap.
IF, by facing my fear, $6,600 is raised for Adeara, women at risk will find hope and help.
WHEN you donate to support the cause you will be changed.
Would you donate a dollar for every year of my life – $66? Rounding up to $100 would be great. Adding a "0" to make it $660 would be awesome! All donations are tax receiptable. Donate here.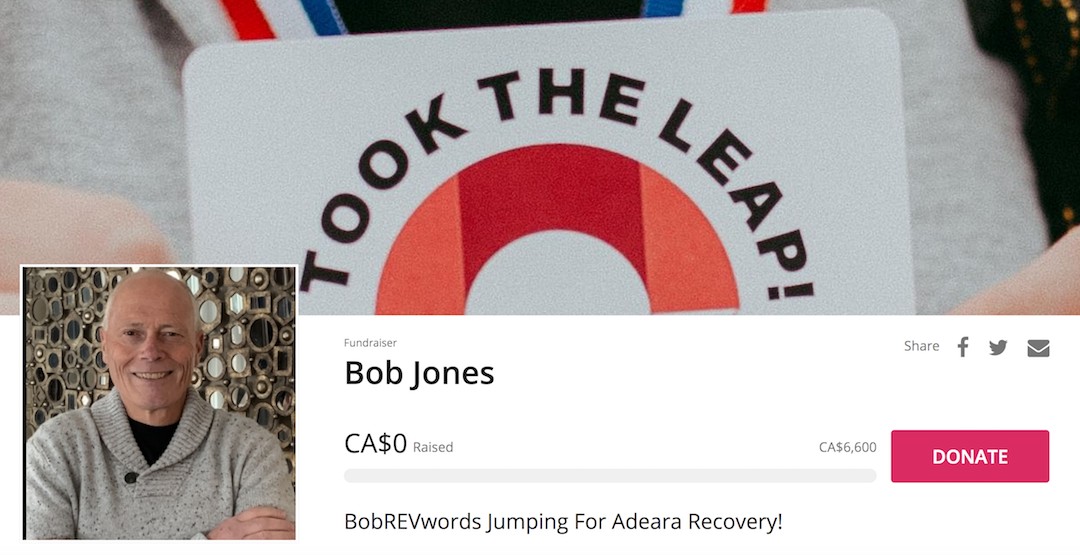 Follow the Leap of Faith at @bobrevwords and witness my jump on Saturday June 20th at 9:00am in Westlock, Alberta.
Thank you.
APPLICATION: Make a difference. 1. Donate here. 2. Share this post on FB or Twitter. 3. Join Jocelyn and I at 9:00am on June 20th in Westlock at Edmonton Skydive for the jump. 4. Leave a comment below. Adeara thanks you.
---
Hope grows here.  We share stories that inspire people, build faith, and offer lasting purpose.
We'd love to have you Subscribe to REVwords. We'll put helpful content into your inbox early Mondays to get your week off to a good start.