Today (June 14, 2013) was North Pointe's Annual Walk Run Ride for Hope 2013.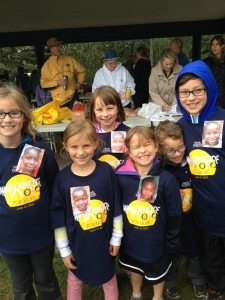 Dozens of participants showed up in support of orphans at our Village of Hope in Harare, Zimbabwe. We were running to raise awareness and money for them.  Our youngest participant was just over two and our oldest was way over two. It was a family affair. The weather was not "summery" at all – high winds, overcast, intermittent rain. It was cold. But that didn't deter anyone.
Each participant was given a picture of a child or a caregiver at the Village. The pictures were glued to our event t-shirts. My child was a little girl named, Melissa. She has a killer smile. So I wore her picture over my heart as I ran the 10km leg of the event.
I also told Kristen Fersovitch, who is battling inoperable cancer, that every step I ran would be a prayer for her health and hope.
It took me 69 minutes to cover the course (slow like a snail for true runners but at least I finished.) The run was a good time for gratitude.
Thankfulness for our church family and their willingness to work together for a good cause. Thankfulness for Madlen Christianson and her team who organized the event.
Thankfulness that a little girl like Melissa, who had no hope, is being cared for so well at the Village. Thankfulness for knowing Kristen and the warrior courage she exudes in facing cancer.
Thankfulness for the time to simply plod along and pray for both of them.
And the doughnut? Thankful for good friends – Anas and Colleen Raja – they bought me a chocolate covered doughnut to be eaten upon completion of the run as a reward. Doughnuts never taste SO good as at the end of a run! They are health food for the happy.
For more info on our Village of Hope go to our website.