He'll squeeze all 315 pounds of his 6'7" body into a seat on the bus early Monday morning after a breakfast of five eggs, turkey bacon and yogurt. For Jacob Ruby the three-hour bus ride down the QE II will be reminiscent of high school football away games – the boys on the bus – all good. And then it's all business.
Labor Day Classics
Labor Day weekend football games are most every Canadian's favorite farewell to summer. The Banjo Bowl in Regina, the Ti-Cats against the Argos in Hamilton, the Esks taking on the Stamps in Cowtown and even a new rivalry between Montreal and Ottawa. Classics.
Jacob (never Jake) and I recently shared football stories over coffee at Mandolin Books and Coffee. He's the kind of guy you immediately look up to not just for his height but his personality – a gentle giant. For a kid out of London, Ontario being drafted and starting every game over four years for the Richmond Spiders of the NCAA was the stuff of dreams.
But his best experience in Virginia was meeting Blair, his wife and now mother of their first born, Zoee Blair.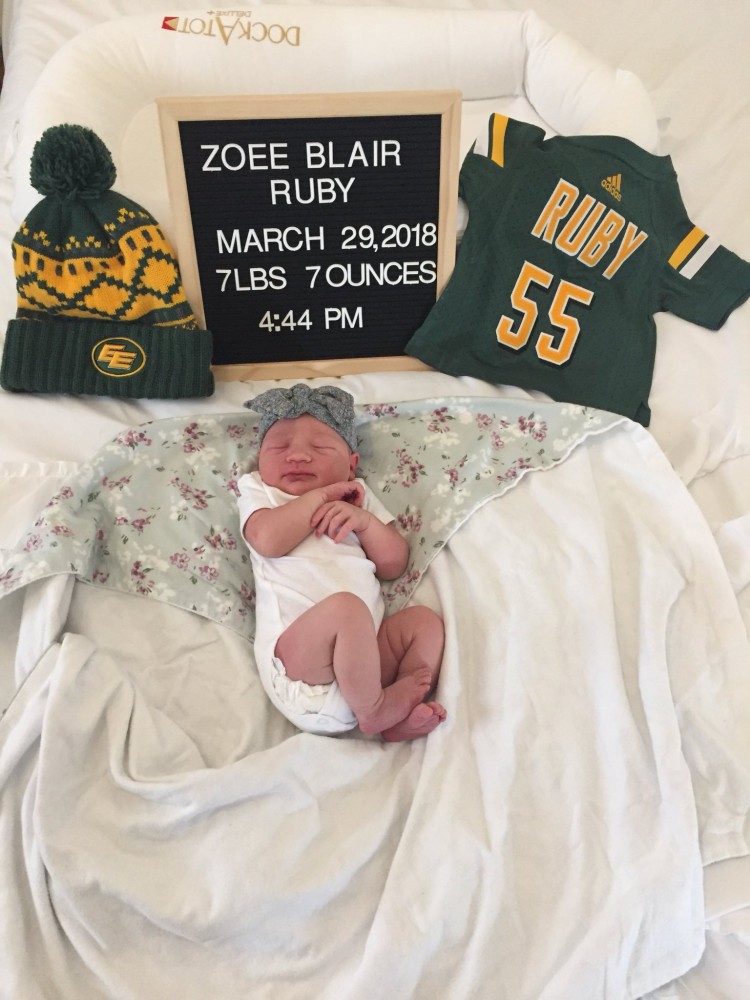 In The Trenches
At 315lbs, Jacob got a lot of attention as an offensive lineman and went in the first round of the 2015 CFL draft. He turned pro with the Montreal Alouettes and got into twenty games over two seasons before being released by GM Kavis Reed. Jacob joined the Eskimos in 2017.
2018 spring training camp pitted Jacob against a brother – David Beard – in a heated battle for the starting offensive guard spot. Jacob always played the tackle position so moving inside came with a lot to learn. "It went pretty well and there are some good guys here to learn from."
Coming out of camp Jacob was "the sixth man" on a five-man line. A big change for the big man. Humbling. But he wears it well.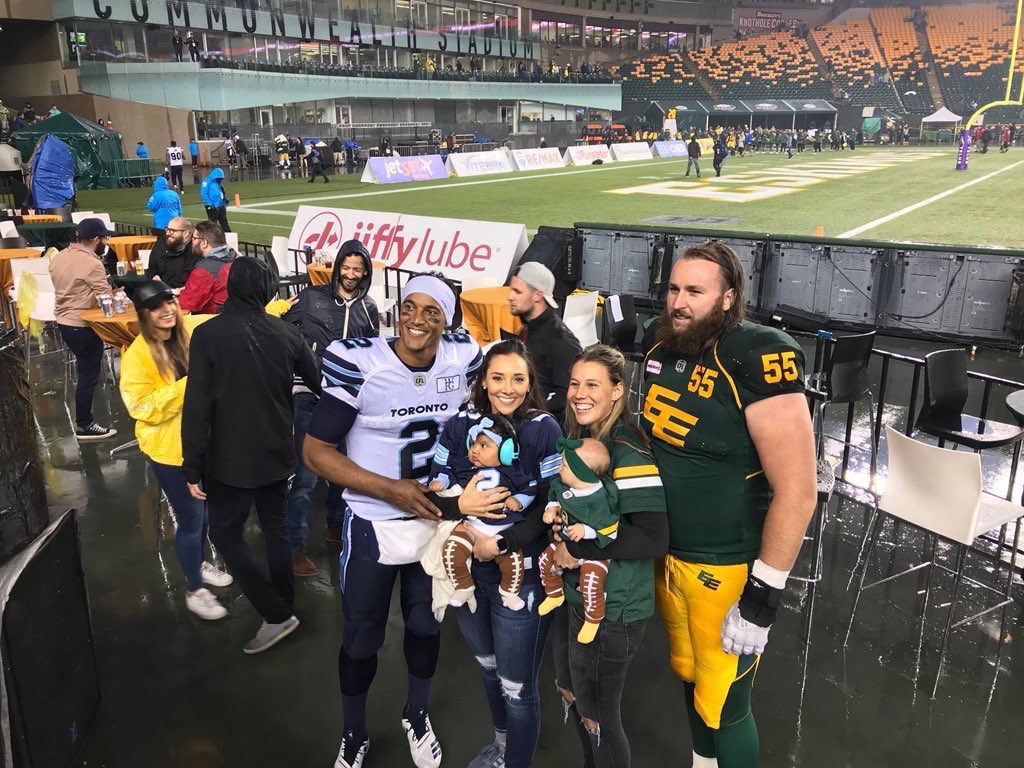 A Family Of Fans
Jacob's got a huge fan base in his family – especially his grandmothers back in Ontario. They follow his games on TV and chat him up on Facebook. And they pray for him.
They remind him that faith, family and then football is life's order in the Ruby clan.
So when the lids go on for the Green and Gold in Cowtown, cheer on #55.
APPLICATION: Meet Jacob Ruby at North Pointe on Sunday September 9th at 9:30am, 11:00am or 12:30pm.
---
Hope grows here. I write to share stories that inspire people, build faith in Jesus, and offer lasting purpose. If this material is helpful to you, please follow me.