Faith…family…football.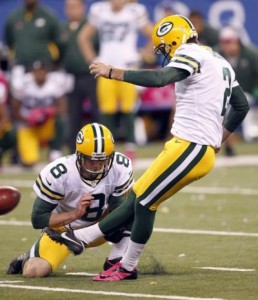 That's Sunday in America, and in some parts of Canada.
The 2nd half of the Colts-Packers game was on at our house. Our interest was piqued because the coach of the Colts, Chuck Pagano had been diagnosed with leukemia weeks earlier and was undergoing chemo treatments. When real life invades sports, the games become more than a game. They become a mission. "CHUCKSTRONG" signs were everywhere in the stadium. The players wore "CHUCKSTRONG" t-shirts u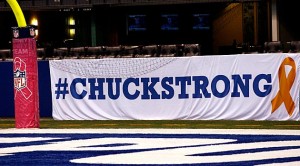 nder their jerseys. They were trying to win the game for their coach. The Colts were led by a rookie QB named "Luck." With less than 5 minutes to play the Colts trailed by 5. After going 0 for 8 on 3rd down conversions in the game, Luck was successful on every 3rd down try in the final drive, including a hi-lite reel completion to Reggie Wayne. At our house it was deemed a "miraculous" play. The Colts scored with 35 seconds left to cap a remarkable 2nd half comeback. 67,000 fans in Lucas Oil Stadium were going wild. It looked like a storybook finish for a much loved coach. But then the Packers drove the field and set up for a game tying field goal. That's when it got weird.
An Indy sports writer tells it this way – "Crosby (Green Bay's field goal kicker) seemed like he got a good kick on it. But something insane happened a millisecond later, inside a retractable-roof stadium with the dome closed this day. The ball veered left so fast and so far about 20 yards into the kick … it was like an immense gust of wind showed up just then and pushed the kick impossibly left. Yet there was no wind — the ball just shot to the left for some very odd, somebody-up-there-likes-Chuck reason, a shankapotamus if there ever were one.
Colts win! Colts win! Colts win!"
Crosby said, "You know, everything until the hit felt good. It just came off a little weird. I haven't hit a ball that moved like that in a long time. It's weird. We're going to have to take a look at the film and evaluate. We've got to come through there. It's a big disappointment."
Weird how?
"Just how it moved. It came off straight and then it jumped over to the left, like a knuckleball."
A "godwink" for Chuck?