Summer 2020 will be a season to refresh, renew, and soak up the sun (under the protection of Spf 50 and a mask?). What better way to spend the rare, rainy summer day than with one of the following reads. All five books are completed on my Kindle. Dive in at the risk of a greater love for God and neighbour.
Marching Off The Map
Canoeing the Mountains: Christian Leadership in Uncharted Territory
Tod Bolsinger's leadership insights were written over two years ago but they read like prophetic foresight for the summer of 2020.
"How do we lead a congregation or an organization to be faithful to the mission God has put before us when the world has changed so radically?"
"What are the tools, the mental models, the wise actions and compelling commitments that require navigation?"
"And mostly, what transformation does it demand of those of us who have been called to lead?"
Bolsinger encourages, "… we will learn that to thrive off the map in an exciting and rapidly changing world means learning to let go, learn as we go and keep going no matter what. If you're going to scale the mountains of ministry, you need to leave behind canoes and find new navigational tools.
Life Unarmed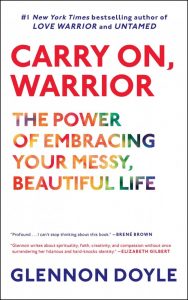 2. Carry On, Warrior: Thoughts on Life Unarmed
Glennon Doyle is not typically on my must read list. In fact you may want to stay away from her first New York Times bestseller. Her language is salty and shocking at times, but not nearly as much as her choices. Warrior is a book for women so why did I read it? If you have to ask you probably won't like the book.
"When you're all hole, God fits. That afternoon I quit smoking, drugging, drinking, and binging. I woke up. I married Craig. I had a baby, then another then a third. I became a preschool teacher. Became a writer. I became a good Sister, and daughter and friend. Without all the bingeing and purging I settled at my natural weight and started to feel beautiful. So much wasted time and tooth enamel. I became a person of serious faith. Wavering, doubtful, confused faith, but faith nonetheless."
 Good News

Bruxy Cavey is the teaching pastor at the Meeting House, a church for people who aren't into church. There is no better leader or book to help pastors develop the skill and the will to share the Good News with the nones, the skeptics and the used-to-believe men and women in your community and church. This is Gospel 101.
Cavey brilliantly distils the Good News of Jesus down to one word, three words and thirty words. Starting in July he will be leading a Zoom (re)union study course on Monday nights for anyone who wants to learn about the person and message of Jesus. Email Bruxy at bruxy@bruxy.com.
Small Shifts
Daniel Im and Tom Rainer explore five micro-shifts that have the potential to produce macro-changes. As you read, you will discover how to integrate these micro-shifts into the life of your church, starting with the way you disciple. Im and Rainer help you develop a plan to structure, communicate, and evaluate these changes to ensure that they take root and pave the way for lasting change and kingdom impact. Im is the senior associate pastor at Beulah Alliance Church in Edmonton.
Brown at Her Best
5. Braving the Wilderness: The Quest for True Belonging and the Courage to Stand Alone

Brene Brown is at her best in Braving the Wilderness. Brown challenges everything we think we know
about cultivating true belonging in our communities. I'm a big fan of her writing because I never get far in one of her books without an "aha" moment.
There are multiple moments in this book. Brown argues that we're experiencing a spiritual crisis of disconnection, and introduces four practices of true belonging that challenge everything we believe about ourselves and each other. Perfect for the pastor who is willing to stretch.
APPLICATION: Which of these reads have you finished? I'd love to know your takeaways. please leave a comment in the section way down at the bottom. Thank you.
---
Hope grows here.  We share stories that inspire people, build faith, and offer lasting purpose.
We'd love to have you Subscribe to REVwords. We'll put helpful content into your inbox early Mondays to get your week off to a good start.