The world you entered will never be the same as the world you left. Johnny Cash said it. Peter Kozak lived it. Peter left this world on April 8, 2022, and our lives are better for him living here.
Lovable
On Wednesday April 20th, the seats at Peter Kozak's memorial were filled with people of all ages. That is a rare occurrence in a memorial service for an 89-year old.
Peter's grandchildren and great-grandchildren were in attendance. However, in addition, there were young men and women who were not family but who Peter helped feel like family. Many more watched online from Alberta and across Canada. Peter was their friend, a fellow choir member, a fishing buddy, a singing partner, in some cases, he was like a grandfather, and even a heartthrob. One young girl told her mom a few years ago that she was going to marry Peter when she grew up.
Peter's stature and gentle nature made him lovable and hugable like a teddy bear.
The Best Is Yet To Come

Peter was intentional about making life memorable:
North Pointe's auditorium held so many memories for Peter. He was there when the facility opened on July 16, 2006. Peter had his own reserved seat, top section, left of centre, row one, just in from the middle aisle. His chair is empty but our hearts are full.
Peter showed us the best is yet to come; there is life after 80.
Oralee, his wife of 56 years, passed away when Peter was on the edge of 80. That kind of grief is overwhelming. Peter could have packed it in, but he didn't. He decided to join a Rock Choir. Yep. At 80.
Peter sang in Sunday services, Easter Choirs, Christmas Choirs and in Christmas Eve services most notably in 2015 when he dressed up in rhinestones and did his Elvis impersonation and sang Blue Christmas.
He married Evelyn in his 80's. May 25, 2013, he told Ev he would love her for the rest of his life.
He was pushing 85 when fulfilled his dream of recording an album of his favourite songs.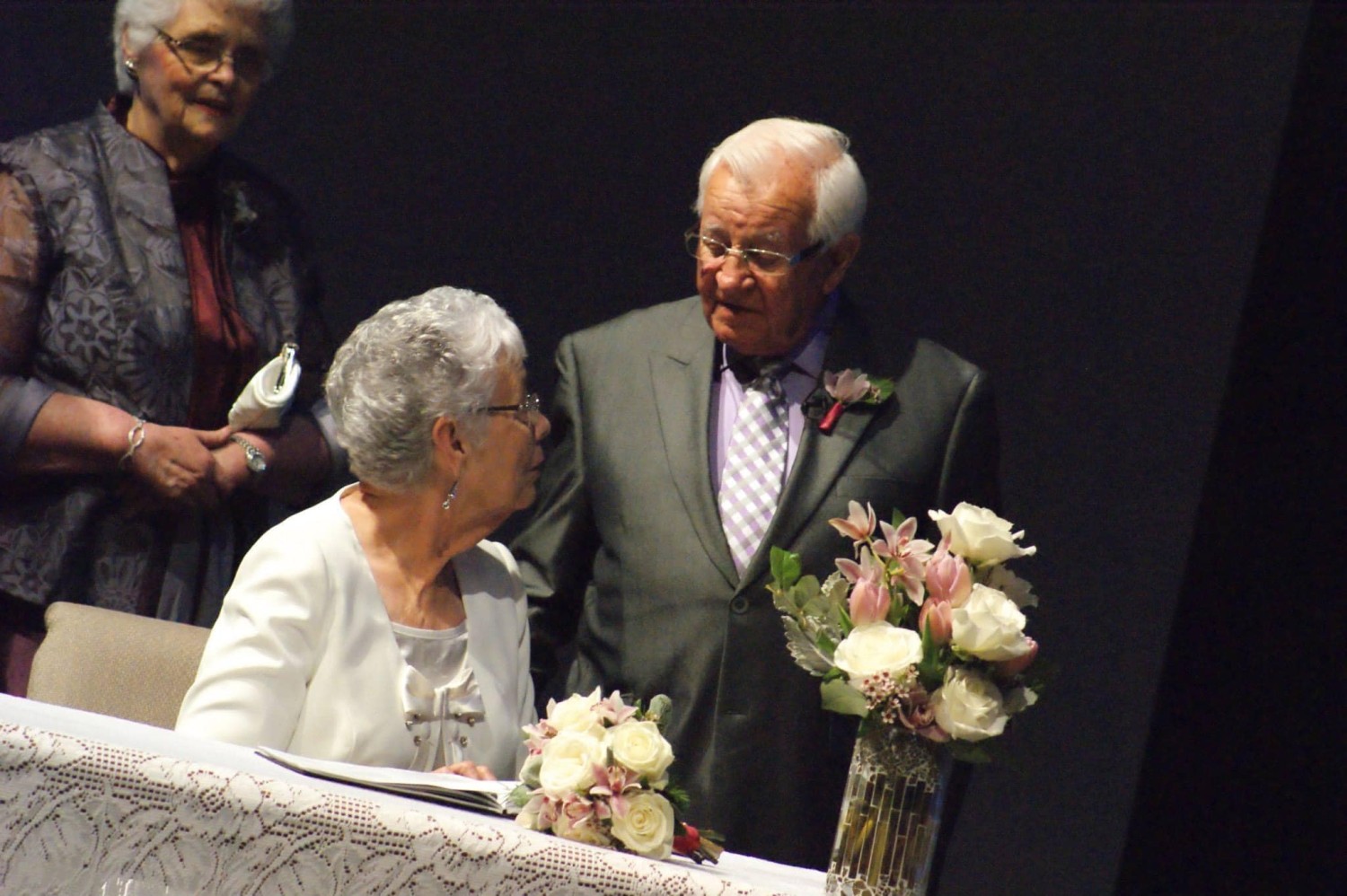 The Man and His Music
A few weeks before he passed away, Peter shared reflections with me on his life and his love of singing.
He joked that music was always a part of the Kozak family. Even their sewing machine was a Singer.
He reflected on the choir leaders he worked with – Ernie Shedden, Laurie Berteig, Mannie Fonte, John Cameron, Craig McKibbon, and Sean Morton.
Peter agreed with Ella Fitzgerald who said, "The only thing better than singing is more singing." He was genuinely enthused about meeting Bill Gaither and singing in a quartet in heaven.
A person who sings often is happy and enjoying life.
Singing is the sound of the soul. Peter was a good soul. He was a salt-of-the-earth kind of guy.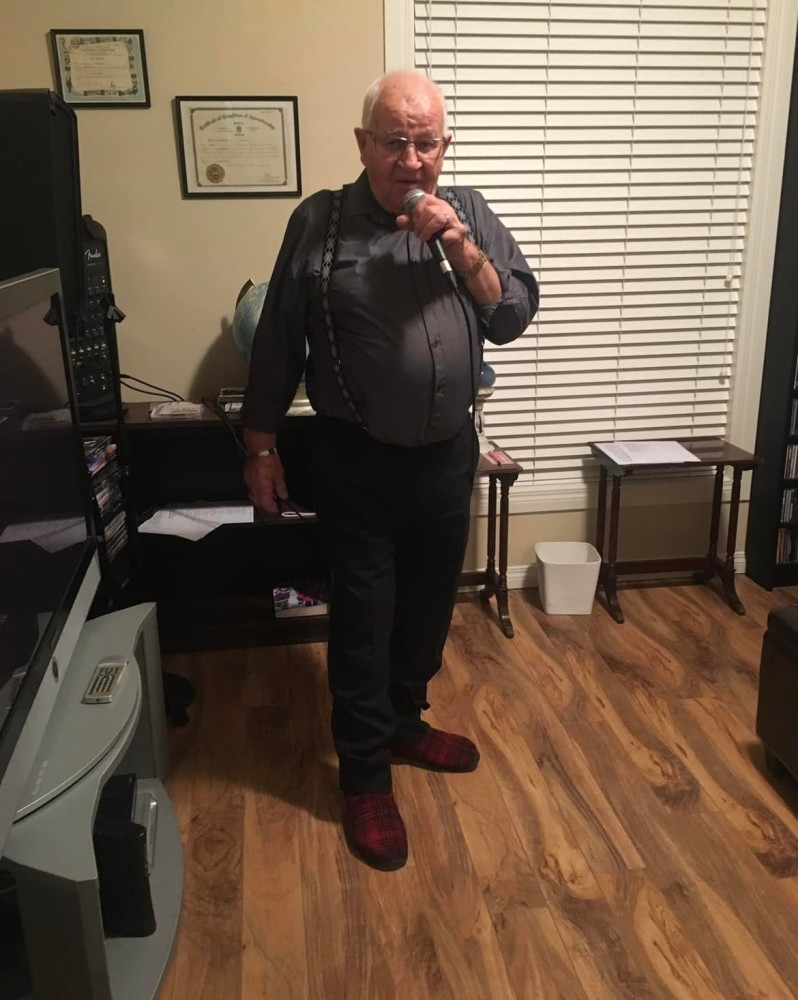 Attitude
What endeared Peter most to those who knew him best is that the adversity around him never embittered the attitude within him. His life was a shining example of what the grace of God can do for anyone who is humble and faithful.
Peter and Ev were familiar with loss, hardship, and grief. Most of us watched them go through tough times. And yet, they truly became bettered and not embittered through their experiences.
In Israel
He was thrilled to travel to Israel a d Jordan a few years ago and put his love of singing to good use.
In an ancient church in the town of Bethlehem, Peter sang the Christmas carol by the same name. On the Sea of Galilee, in a fishing boat, Peter led everyone in singing O Canada. On the platform of an ancient Roman amphitheater in Tiberias on the shore of the Mediterranean Sea he and Tracey Kimo sang a duet of How Great Thou Art.  He marvelled at the Western Wall, the Garden of Gethsemane, viewed the Valley of Meggido, climbed through the ruins of King Herod's fortress at Masada, and rode a camel with Ev.
We went into Jordan to visit Petra. Its long hike to see the famous Treasury carved into the mountain of red rock limestone. So Peter and Ev rented what the locals called a chariot. Our team was walking through the red rock passageway when we heard shouts and the clip clop of a horse and around the bend came Peter and Ev in a buggy pulled by a white horse, huge smiles and waves, like a royal couple.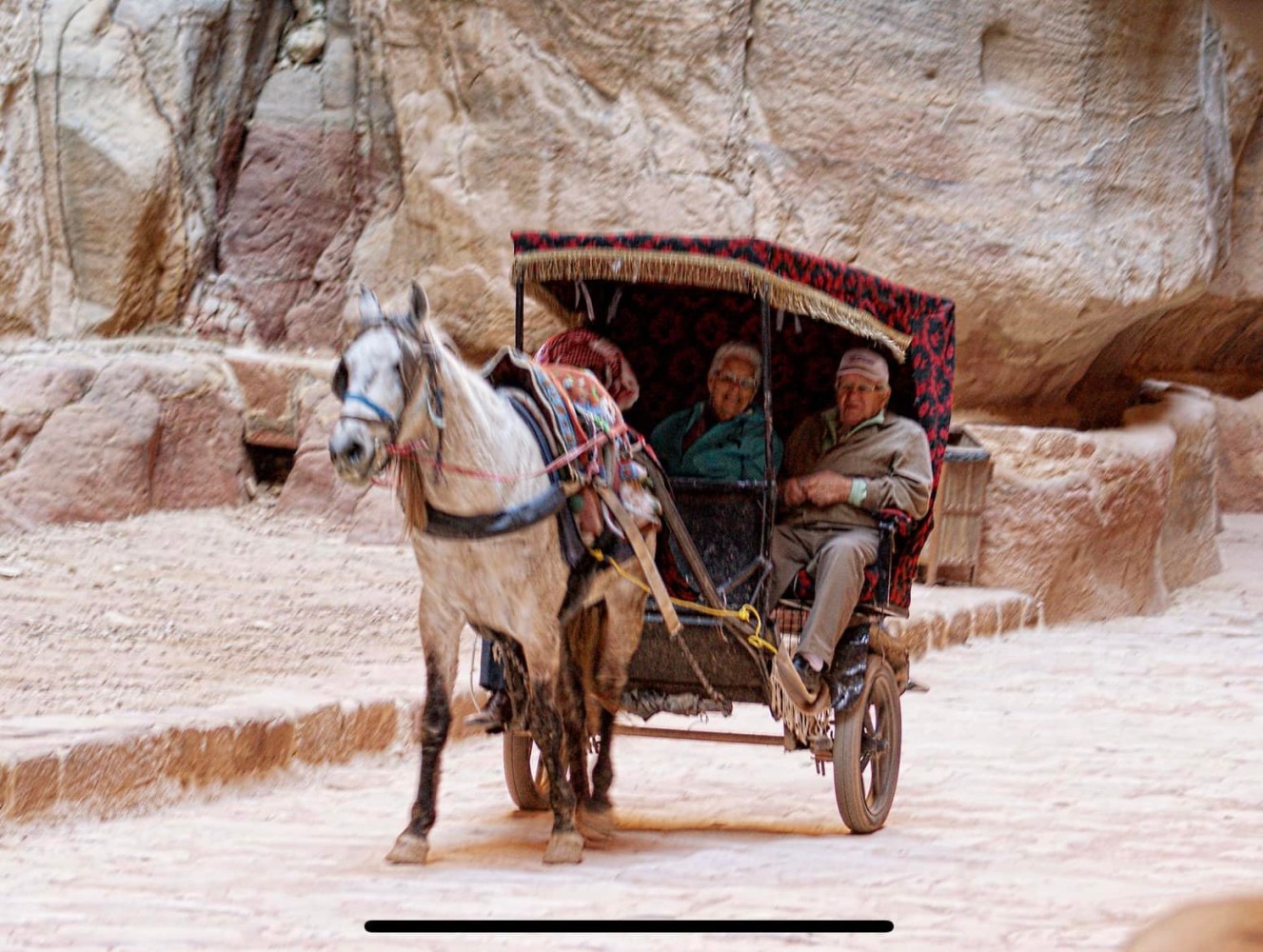 Safely Home
Peter was at Golgotha, the place where Jesus was crucified. He believed Jesus died for him. Peter stepped into the empty sepulchre at the Garden tomb. Peter believed Jesus was raised from the dead. He believed in the resurrection.
Peter knew that death was not a period at the end of life's sentence but a comma that punctuated life to a heavenly level.
In the mid-50's he and some of his siblings formed the Kozak Quartet, toured Alberta churches and recorded an album.  One of the songs, Angels Rock Me to Sleep, was on Peter's mind in his last days.
At last the harbour I am nearing
I see the lights along the shore
I hear my friends and loved ones cheering
I'll soon be safe for ever more.
The singer is safely home and his song goes on.
In life, we loved you dearly,
In death we love you still.
In our hearts you hold a place,
No one else will ever fill.
Please post a memory you have of Peter Kozak. Thank you.
Hope grows here.  We share stories that inspire people, build faith, and offer lasting purpose.
We'd love to have you Subscribe to REVwords. We'll put helpful content into your inbox Mondays and Fridays.