Lisa LaFlamme is one of the last voices Jocelyn and I hear most nights before shutting off the lights in our living room. Monday to Friday we see the very last thing she does in her day, which is present a news cast.
The Chief
Lisa LaFlamme is our answer to the Jeopardy question, "Who do you trust in journalism and broadcasting?"
Maybe you're like us and feel that you're on a first name basis with her, so I'll use Lisa in referring to her.
As Chief News Anchor and Senior Editor since 2011, Lisa leads Canada's #1 newscast – CTV NATIONAL NEWS WITH LISA LAFLAMME – where she has cemented her role as the face of news in Canada.
So why do we trust her?
Trustworthy
First, we don't see Lisa as "the gospel truth" of broadcasters. There have been many occasions when we raised an eyebrow at her perspective. However, compared to CNN or Fox, the woman is an icon of integrity. We share a lot of values in common.
Lisa grew up in a very Catholic family. She says her faith has helped her "learn empathy, the concept of truth, and doing right by another person. Those are the same principles that guide good journalism as far as getting to the truth on something and particularly focusing on the oppressed in the world."
In a recent interview I heard Lisa explain, "Fighting misinformation and fake news has jumped to the top of my roles because it is costing lives. People don't know what to believe and what not to believe. Media literacy is as important as math – teaching our young people how to choose their sources; how to decipher fact from fiction."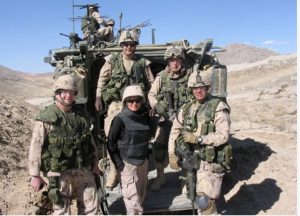 Over the years she's covered top stories of the day, including the 9/11 terrorist attacks in the United States and Saddam Hussein's trial in Iraq, and she spent two months in Afghanistan reporting on the Canadian mission there. She was the first woman in Canada to anchor a national news cast.
Because I Am A Girl
Lisa is the legal guardian of Roya, a young woman who escaped Kandahar, Afghanistan and is currently in post-secondary studies in Canada. "I think she can change the world. To me, she embodies what every girl could be." Lisa is an ambassador for Because I Am a Girl, a global campaign committed to ending gender inequality. She also volunteers with Canadian Women for Women in Afghanistan, which works to advance education and educational opportunities for Afghan women and their families.
I like her perspective on success. "Maybe we focus too much on the big success that really affects such a small part of the population, and we don't stress success on a smaller level enough, like education," she says. "I don't think of success as having to move mountains – very few people get to move mountains. But if we're pushing molehills, then we might be doing OK. A happy life is a huge success."
Humble
Her most attractive feature is humility. I love her response to self-control. "I'm one of those people who is perpetually trying to stay away from the things I love, which is chocolate and croissants. I don't have a great track record on that front, but I'm trying." She has an inherent curiosity – a childhood spent asking people questions. "It was called 'mouthy' in my family, but I managed to morph that curiosity into a job I love."
We share an enjoyment of walking. It's been part of her life for 20 years. No matter where she is, she tries to walk. Even when she's been in conflict zones, she thinks about the daily walk she does at home and finds that calming, like therapy.
Lisa makes physical activity a multi-tasking, must-do essential for herself and her beloved chocolate lab, Toblerone (aka Toby). "Thanks to him, the most important thing I do is walk for 90 minutes every morning. I do my morning news call in the park and, no matter what the weather is, the walk is an absolute must."
Is Lisa a trusted voice in your family? What do you think of her? Please leave a comment at the bottom of this post.
Hope grows here.  Stories that inspire people, build faith, and offer lasting purpose.
We'd love to have you Subscribe to REVwords. We'll put helpful content into your inbox early Mondays to get your week off to a good start.