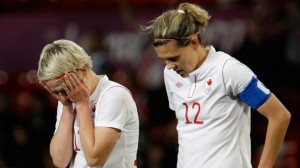 Ya gotta love Christine Sinclair.
I hoped to see Sinclair captain the Canadian Womens Olympic Soccer Team to an improbable victory over the heavily-favoured US team.
Sinclair is a warrior if ever there was one. I had the pleasure of watching her compete in Edmonton in the U19 FIFA World Championship in August 2002. Game after game for Canada she was the best. Even though Canada lost to the US, Sinclair was named the Tournament MVP with 10 goals. Since then she has become known as one of the most consistent women's soccer players in the world. She is a 7-time winner as Canadian Soccer Player of the Year and nominated 5 times as World Soccer Player of the year.
Ten years later, fueled perhaps by some desire for revenge or just looking for air conditioning on a 30C August day, some of our family camped out at Boston Pizza in Sylvan Lake. The pitch was Old Trafford, home of Manchester United, "The Theatre of Dreams" – aptly named for a Canadian upset. Once again Sinclair was the dominant player for Canada. She won the battles, fearlessly giving her all in scoring three times. Three times we interrupted the BP crowd with our cheers. Canada couldn't hold any of the leads. History repeated itself. The US won in overtime.
What a memory. The game ranked with the greatest sporting moments of history – one of the finest Canadian Olympic efforts ever.
Christine stood, in silence on the pitch of Old Trafford – her dreams in tatters. It was a gut-wrenching loss. Now it would take guts to re-group her team and travel to Coventry and the Bronze medal match against France.
6AM MT. Thursday.
Go Canada! Go Christine!