Claire Woodall was aware something bad was going down on Monday night, June 8th in Edmonton's Callingwood neighbourhood. She was tuned in not only because of her employment at a local Edmonton radio station, but her husband Daniel was on duty that night with the Edmonton Police Service. He was working in Callingwood.
At 9:10 PM she tweeted @NumberGenie  Haven't heard anything so here's hoping my cop isn't there! #policewife #nerves #family #love #prayer #positivevibes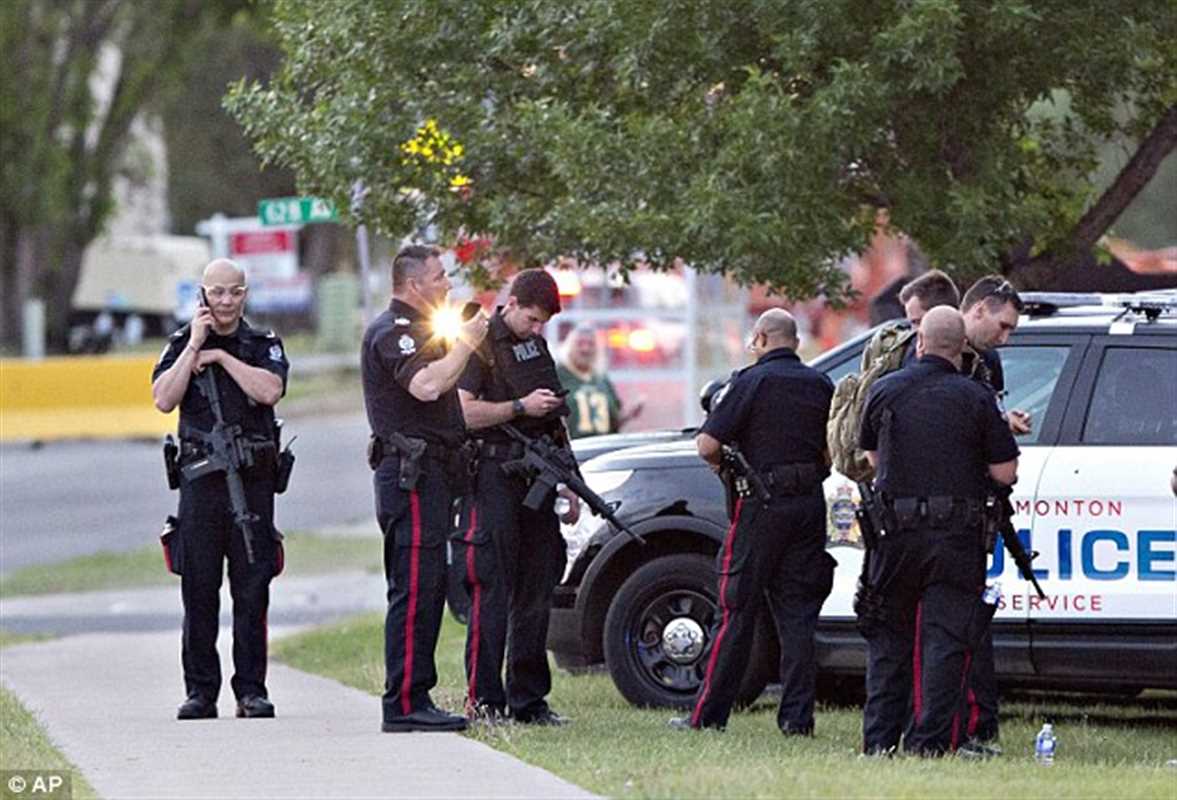 Hours later the world, as she knew, it ended. Cst. Woodall was the "officer down."
At 4:10 AM she simply tweeted #EPS #EPSstrong #PoliceLivesMatter #foreverinmyheart #love #unity #family #father #husband #forever
At 8:10 AM the next day, in an act of heartfelt gratitude, Claire tweeted, @NumberGenie Your generous outpouring of love for myself and my boys fills my heart…He is my hero, our boys' hero & Edmonton's newest hero. #EPSstrong
Men and Women in Blue
There are numerous men and women who serve with the EPS at North Pointe. Our extended Jones family has a member on the force. On Monday night, mine and Jocelyn's hearts and prayer went immediately to them as we heard the news of an "officer down." We prayed for each one by name, hoping it wasn't them but knowing someone's loved ones would be devastated.
Daniel Woodall joins the three other Edmonton officers slain in the line of duty. On "The Officer Down" remembrance page, his simple epitaph reads, Edmonton Police Service Alberta End of Watch: Monday, June 8, 2015"
A City Turns Blue
My colleague, Lawrence Peck, is the Chaplain to the Edmonton Police Service. We were teenage friends a long, long time ago in a province far away from Edmonton. He is now a first responder to the bereaved families of first responders. His pastoral care was one of many such acts of compassion given to the Woodall family.
EPS officers took to social media to express their grief and pride of service.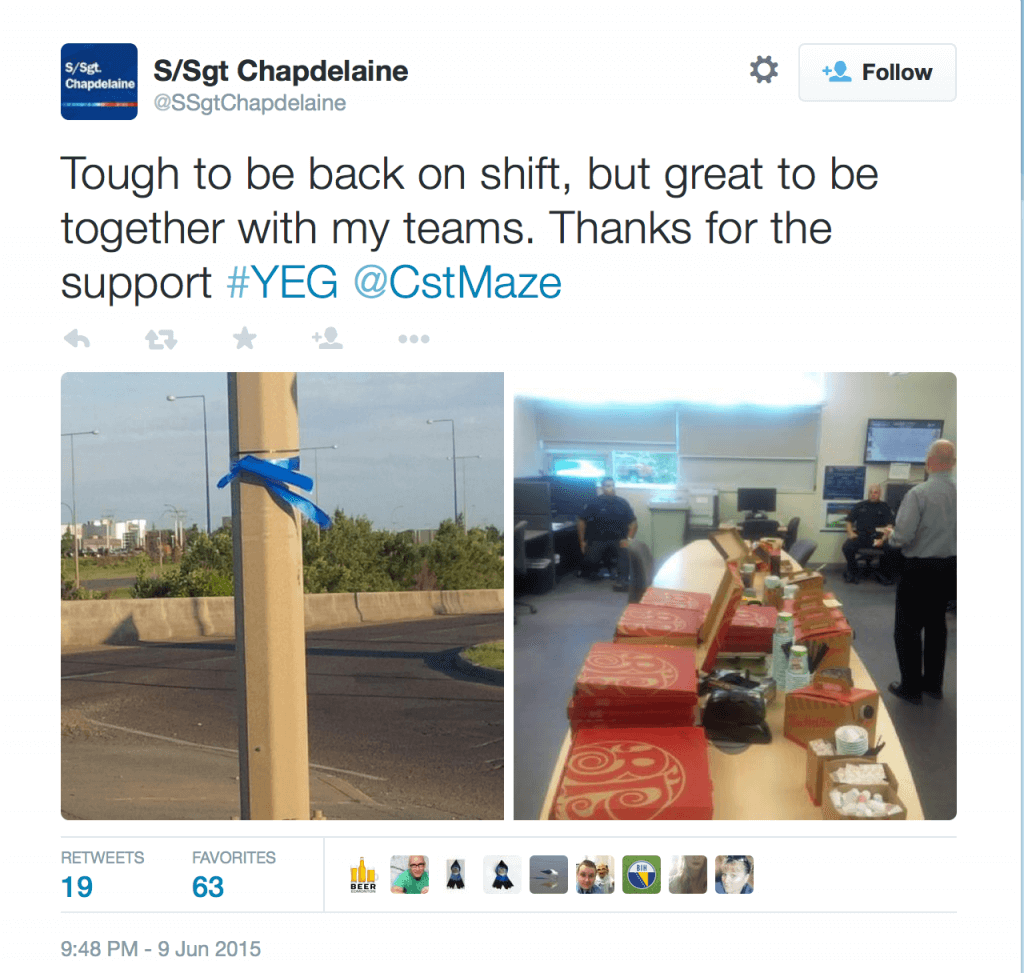 @CstHauptman Let us not forget the family of fallen Cst. Woodall. He gave his life, and they lost a husband and father. "No greater sacrifice"#EPSstrong
@Cst_Lee We suit up and take the watch day or night because we love you (family, friends & neighbors) more than we love ourselves. #EPSstrong #yeg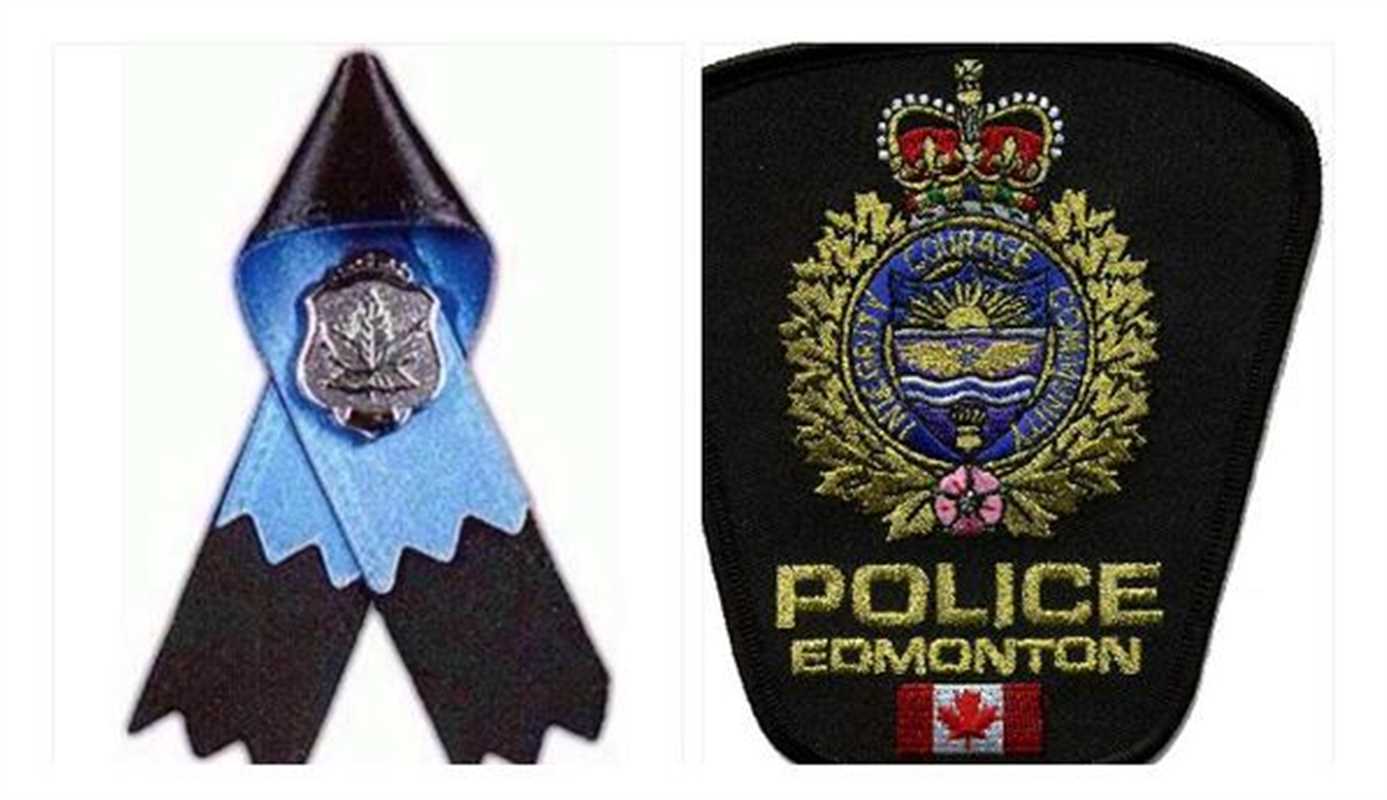 "Policing is a dangerous field of work, there's no debating that. I thank God every day I make it home to my family, and luckily (likely due to my faith and training) I don't worry about what may happen. Today, what may happen, did happen. Today we again mourn the life of another fallen officer. May the Lord comfort the family and friends of both the deceased and the injured." An EPS member at North Pointe
There has been a tsunami of grief and support from the Edmonton community. A makehift memorial appeared in the neighbourhood of the shooting the next day. Police stations were flooded with food and beverages. Citizens stopped on duty officers to say "thanks" and many gave a hug.
A rapidly increasing number of trees and poles are adored with blue ribbons, the colour of the EPS.
A Trust fund for Const. Woodall's family was growing by the $1,000's in its first few hours.
The ATB Tower and the High Level Bridge were lit in blue.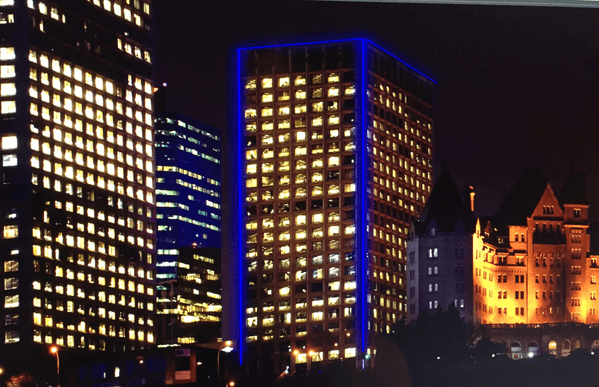 How to Help
The parking lot light towers at North Pointe will be adorned with blue ribbons.
On Sunday we'll take a moment of silence in each service to honour Cst Woodall's sacrifice and the sacrificial service of each of the members of the EPS and RCMP at North Pointe.
Donations to Trust Fund for Cst Woodall's family can be made at any local RBC branch or by visiting gofundme.com/wf7z7yss.
APPLICATION: Please pray for Claire and her two sons and for those who serve from North Pointe.
#EPSstrong
---
Hope grows here.  We share stories that inspire people, build faith, and offer lasting purpose.
We'd love to have you Subscribe to REVwords. We'll put helpful content into your inbox early Mondays to get your week off to a good start.