The Bible is cool.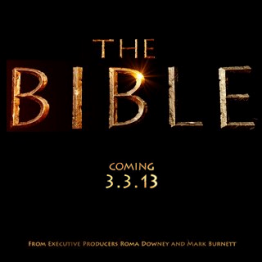 The History Channel on 3:3:13 will be the hot place to see the Bible come alive in HD.  Who better to bring it to life than TV's favourite angel, Roma Downey and her husband of "The Apprentice" fame, Mark Burnett. If Burnett could make, "You're fired!" a household catch-phrase, there may be hope that interest in the Bible will catch on in households and hearts across North America because of this series.
"The Bible," a ten-part series, has been four years in the making and a personal passion for Downey and Burnett.  Why? They said their faith is central to their lives and they took the responsibility of telling the Bible's stories seriously. "We believe the Bible," Burnett said. "On this project, there's only one way to approach this. You have to take the Bible as a fact."
Burnett and Downey expect the series to have an enormous impact. They have recruited more than 40 theologians and academics to advise them on all aspects of the series. However, it may be their teenagers' standards that give the series its momentum.
The couple have three teenagers. Downey said. "One of the things they said to us was, 'Oh please, whatever you do, don't make the special effects lame. We showed our kids, at the beginning of this project, a movie we had grown up on, 'Ten Commandments.' They were rolling their eyes," Burnett said. "That movie is beautiful, but it's 50 years old. So really, what we've done for 2013 is brought fresh visual life into the greatest story ever told."
Their kids got to screen a portion of the mini-series ahead of time at their school.  They called their parents after the screening and, "Everybody loves it!" Their mom asked, 'What was the most-heard comment from your fellow teens at your school?' and they said, 'That's really cool,' so we felt, 'Hey, we got something right,' Downey affirmed. "Because, you know what? The Bible really is cool."
So pop some Orville Redenbacher's and gather the family around the TV and be a part of history on Sunday night.