Lockdowns can't limit the love of God! MyChurch, in Siberia, started off the new year with a service where 26 new believers were baptized in water (before gatherings were restricted) and were all smiles after.
---
A guest post from Steve Hertzog. Jocelyn and I were hosted by the Bantseevs in the summer of 2017 when we led a team to Siberia. llya was born and raised in the underground Pentecostal church in the former Soviet Union until his family immigrated to Canada in 1988. On the way to Canada, he and Janet met in Vienna, Austria, where she was serving as a global worker in a refugee camp. They were married in 1991. In 1993, they felt God calling us to return to Novokuznetsk, Ilya's home city in southern Siberia, Russia, to plant a church. At that time there were only four evangelical churches in the city of 600,000 people.
---
MyChurch
When the weather warmed up to -7 C (you know you are either in Siberia or Alberta when it gets to -7 and people go out because it has "warmed up"!) the MyChurch youth did a skating outreach. One of the main guys doing the evangelism was Artur, a young man who grew up in an orphanage & came to faith through the MyChurch teams that used to minister the love of God there. Now… years later… he is ministering that same love to others!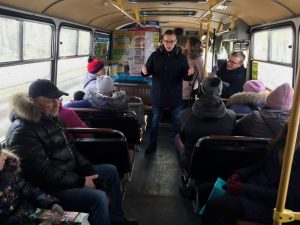 The MyChurch youth also kicked off 2021 with another outreach… bus ministry. They did songs, testimonies, & literature distribution on a city bus… after they paid the fares of everyone getting on! They are a great example that "love is kind" indeed!
The three men in the picture below remind us that because God's "love is patient" there is "always hope". They just had a most interesting reunion. All three were friends in prison together. All three had contact with MyChurch ministries and over time came to faith and got out of prison. They ended up growing in faith and leading ministries in the church. And all three just got together again… in a church service… "rejoicing with the truth!"
Prayer
Please pray for the Bantseev family… Janet & Ilya and their four kids as they "always persevere" in sharing the love of God so faithfully. Of the kids, Jessica (approved by PAOC missions in 2020, one of our newest Global Workers) ministers with her parents at MyChurch leading youth & media. Joanna is a nurse in the USA. Josh & Joseph are both studying medicine in the USA and along with Joanna aspire to be medical missionaries after graduation.
More About the Bantseevs and Siberia
From Siberia with Love – Meet the Bantseevs
Hello From Siberia – our global team from August 2017
When Christmas Came Early in Siberia – the fabulous story of Pete de Jong and Zakk Baltgailis chopping down a forest in day
Fighting Addiction in Siberia – the miraculous story two brothers freedom from addiction and journey into ministry
Please leave a comment for the Bantseevs at the bottom of this post. Thank you.
Hope grows here.  You'll find stories that inspire, build faith, and offer lasting purpose.
We'd love to have you Subscribe to REVwords.  Helpful content will arrive in your inbox early Mondays to get your week off to a thoughtful start.